Mystery Giveaway celebration giveaway #3 Sweet Monograms
I was browsing around on Etsy one day looking for something unique that I could take for my shopping trips. I believe in reusable shopping bags versus the plastic bags. I want to protect our environment any way I can and this is one simple and easy way for me to help do that. During my quest I landed on a sweet site called Sweet Monograms. I oohed and aahed over everything and came to a navy blue market tote that I fell in love with. Right then, right there. I have several pattern preferences and solid colors is in the top three. I'm a big fan of navy as well because it's so easy to keep clean. I'm just a mess with lighter colors.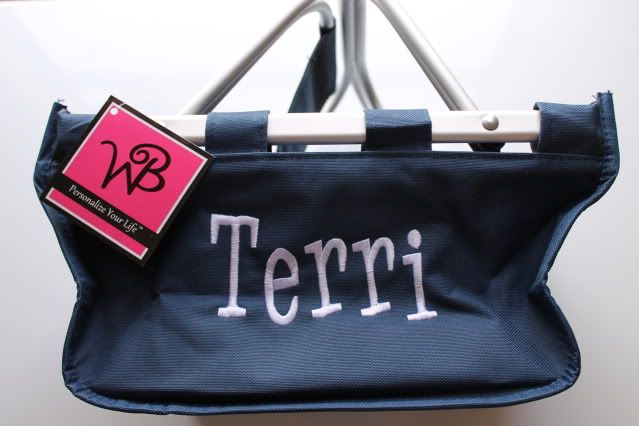 I looked at the market tote (forever) and in the back of my mind was lurking thoughts of my January Mystery Giveaway Celebration event. I wanted the opportunity to show off this amazing site not just for their market totes but for everything that they have to offer. Once you look over the site I'm sure you will see why I saved this site to my bookmark. They have Birthday gifts for any and everyone as well as Christmas and any other special event gift that my friends and family would love. Besides the color, I liked the mini size. You all know that I suffer from back injuries. My back was injured during an emergency surgery I had to have, a do or die situation, and while I've had extensive surgery on it not all of my injuries are fixable. My injuries will remain with me through out the remainder of my life. I'm not even allowed to lift a mere 5 lbs. Therefore, most of my heavy shopping is either done online or I have to take along family when I shop. I can carry light parcels and that's why I wanted the mini market tote. Now the monogram was just the icing on the cake. I love all things monogrammed. It makes such a personal statement. The way to my heart is through letters :).
I'd like to point out some things about this market tote. One of those is that this folds flat for easy storage. I keep mine in my car and after each shopping trip, I bring it in and empty it, I fold it back up and put it back in my car. It doesn't take up any room to store and easily fits in the back pouch behind my seat. Also noted I love the 4 little pegs or legs if you will under the tote so if I have to sit my tote down, it's not resting on the fabric. Inside the tote there are two netted pockets which I use to put my keys and cell phone in as well as any shopping list or lists I bring. Very handy. The aluminum frame on this tote is removable and super easy to wash off and keep clean. The tote is made with a nice thick and tight polyester material and is 12″ L x 9″ W x 7″ H. This handy mini market tote is just an all around perfect little stylish shopping companion and I highly recommend purchasing one for each of your family members.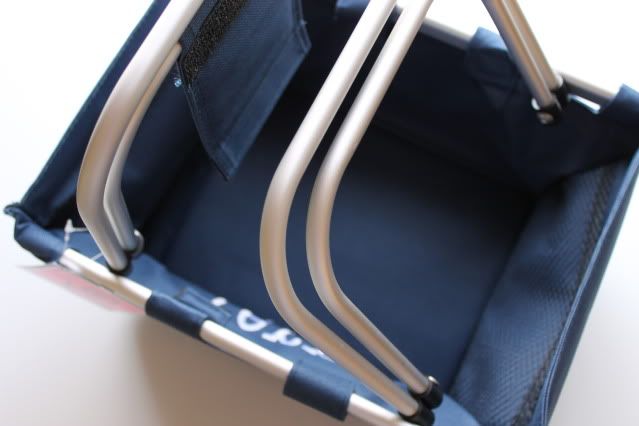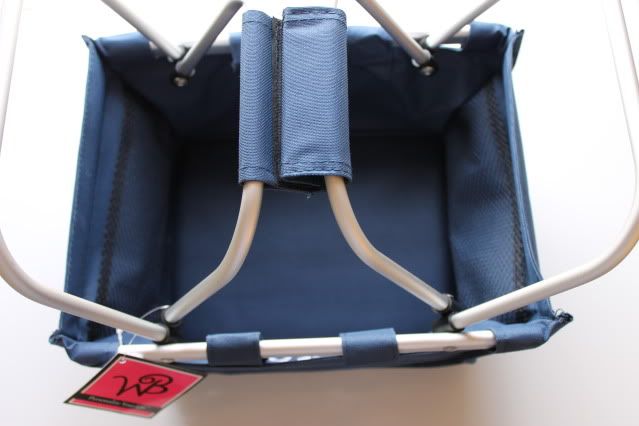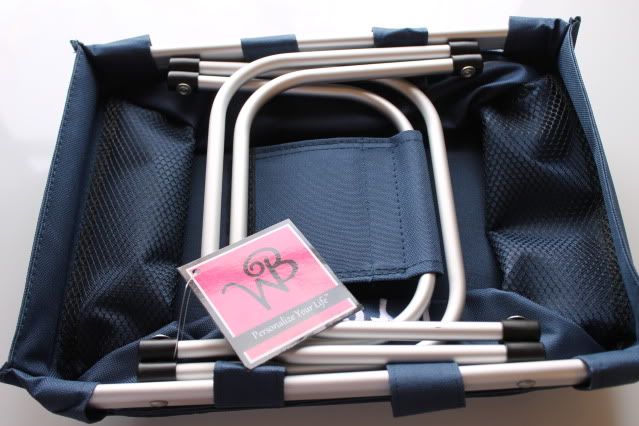 Sweet Monograms is centered in Atlanta Georgia and I love supporting local businesses. One of my lucky readers will win something from Sweet Monograms which will be sent to the winner in the Ultimate Family Giveaway. I'm not telling what because it wouldn't be a surprise if I did. If there is anyone that can keep a secret, it is me. My lips are sealed, you aren't dragging this out of me. The item will be selected by the owners of Sweet Monograms and will be sent by them. They have my deepest appreciation for participating in my giveaway event. Thank you for the lovely Market Tote which I will cherish always. To enter this giveaway, please use the rafflecopter form below. If you have any questions or comments please contact me at terrishaven@gmail.com or use the contact me tab located on the right side of the screen on all of my website pages. You must have a US mailing address and be 18+ to enter. Good luck everyone! CONNECT WITH SWEET MONOGRAMS Sweet Monograms Shop Facebook a Rafflecopter giveaway
Disclosure: I received one or more of the above mentioned items for free to help facilitate my review. My opinions are always 100% honest regardless of the free item. Sweet Monograms has graciously agreed to send the winner of the Ultimate Family Mystery Giveaway an item that will be selected by Sweet Monograms.